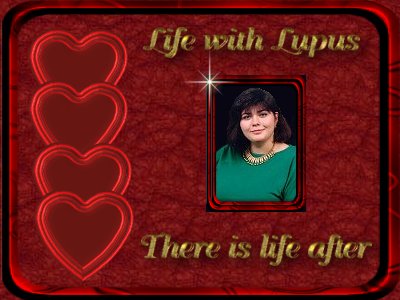 What is Lupus?
There are two forms of Lupus. The form that I have is:
Systemic Lupus Erythematosis (SLE)

Basically, it is an autoimmune disorder, wherein the immune system turns on the body...the connective tissue. It is neither inherited, nor cancerous, nor contagious. Many body systems can be effected, including joints, skin, kidney, brain, heart, and lungs. For symptoms and more on this disorder, see links below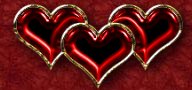 Living with Lupus
In the fall of 1994, I became very ill and then was hopsitalized. After countless tests, and numerous doctors, I was told about Lupus. I had never had a serious illness before, and was quite scared at the time. I began reading and trying to find out more about this illness. I have always believed that knowledge is power, and that we need not fear what we understand. The first literatures I found on the subject all screamed out to me "TERMINAL ILLNESS". Some medical professionals still classify it as such. Most patients do not. I say this because we have simply learned to adapt and live with it, instead of waiting to die.
The physical Changes
A great deal of physical changes have occurred. I can no longer do all of the things that I once could do, and that took a great deal of adjusting to. Also, I have developed Asthma, Arthritis, and Renal Arterial Stenosis as a result of this disorder. I get tired very easily and have learned what my limits are...one good thing, is that I have learned to listen to my body and what it tells me. I have very good days where I feel as I can still do anything. Then, there are the other days where I cannot get out of bed. Overall, I look at all of these as mostly a big pain in the rump! With Lupus, you have to take each day as it comes.
My Treatment and Doctors
Though it probably is a given statement....I spend a great deal of time visiting the doctors. I really must give them a great deal of credit, because they put up with a great from me and are usually very patient. I ask a great deal of questions and want to be in on the decision making process in my treatment. This has helped me immensely in feeling that I am partially in control of my life...and the quality of that life. This is an empowering thing that removes a great deal of fear.

The Emotional Changes
The most profound effects of this disorder have been emotionally. Some good and some bad. At first, I became very depressed and thought that my life was over and that all my hopes and dreams were lost. Basically, I had my own little pity-party. Luckily, I did not allow myself this luxury for very long. Then I got angry! I was angry at the world, the doctors, Higher powers, the illness, and the world in general...I later found out that this was an extension of my pity-party. I think that one really has to fully experience all of these emotions to be able to move past them and to grow. Those have pretty much been the extent of the bad effects. People look at me very oddily, when I tell them that there really has been some wonderful things come out of my illness.
Facing one's own mortality really can allow one to put their prioprities in order, and put their life into perspective in the larger scheme of things. I now know, that I may die at any time, but not just from the illness...but life in general. This is true of us all. It is what I do with my life that really matters. Quality..not quantity! This illness has made me realize that I may never have the oppurtunity to tell the people I love how I feel about them. So...I don't waste time and play games anymore...I tell people what I think and how I feel about them, and how very special they are to me. This is a wonderful thing that has brought so much joy into my life. It is amazing the reactions you get from this...hehehe...from surprise to tears.
I can honestly say that having this disorder has been the most profound, life-altering experience of my life....and I mean that in a good way. Weird, huh? Well, I realize that my life is really insignificant in the universal scheme of things. I look at it as one drop in the ocean that is the world. This knowledge has helped me keep things in perspective on a daily basis. I don't worry about the small stuff anymore. I once was a chronic worrier...now..I think that worrying is a waste of time and energy. Neither of which I have a great deal to spare. So, I simply take life as it comes and adapt to each new experience and situation. I look at hardships and challenges as just one more hurdle that I need to leap over.
| | | |
| --- | --- | --- |
| | Final thoughts | |
I live my life with a passion, giving my all to everything that I do or feel. Luckily, I have found a wonderful man that accepts me, illness and all. We tackle each day as it comes. He seems to have an endless volume of love and patience for me. For that, I am extremely grateful and have such an undying love for him. Being happy has wonderful benefits to your health.
The reason I did this page is two-fold. In one way, it is therapeutic to talk about it, and voice my thoughts on the subject. The other reason is the hope that maybe someone out there is going through the same thing and can maybe learn something from my experiences. I openly welcome any comments, questions, etc. from anyone and will respond to all. My final thoughts are to love each other and live your life, don't wait to tell your loved ones how you feel. Seize the day!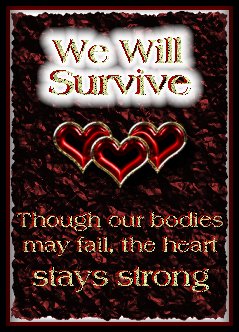 For all those fellow sufferers of any illness, feel free to take this image to place on your own page as my gift. My two requests are that it not be added to a collection or altered in any way as it is my creation and was a very personal thing.

Thoughts to Live By
Hope is an orientation of the spirit, an orientation of the heart.
It is not the conviction that something will turn out well, but the
certainty that something makes sense, regardless of how it turns out.

Courage is the mastery of fear-not the absence of fear.
Mark Twain

There is only one success-to be able to spend your life in your own way.
Christopher Morley

Live all you can; it's a mistake not to. It doesn't matter what you do in particular,so long as you have had a life. If you haven't had that, what have you had?
Henry James 1843-1916

The thing always happens that you really believe in; and the belief in a thing makes it happen.
Frank Lloyd Wright, 1869-1959

Things turn out best for the people who make the best of the way things turn out.
Art Linkletter

This site updated May 22,2007